GST NOT PAYABLE ON ACCOMMODATION SERVICES IF PER DAY DECLARED TARIFF OF A UNIT, IS BELOW RS. 1000 
KARNATAKA AUTHORITY FOR ADVANCE RULING
GOODS AND SERVICES TAX
Case Name: Healersark Resources Private Limited (GST AAR Karnataka)
Appeal Number: Advance Ruling No. KAR ADRG 75/2021
Date of Judgement/Order: 06/12/2021
RULING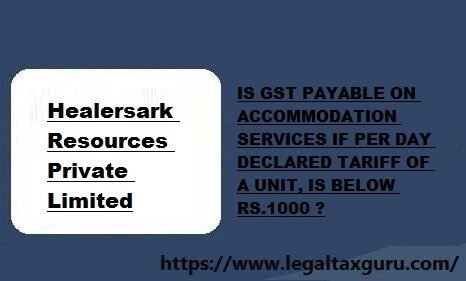 a)The applicable GST SAC for the supply of service described in this application is 9963.
b) It is neither a composite supply nor mixed supply but two separate supplies.
c) The accommodation service (SAC 99632) provided by the applicant to AMSL is exempted vide Notification No.12/ 2017-CT (Rate) dated 28-06-2017 as the declared tariff of a unit of accommodation is below one thousand rupees. But the service provided by the applicant through supply of food (SAC 99633) attracts GST @ 5% as per Sl.No. 7(ii) of Notification No. 11/ 2017- Central Tax(Rate) dtd 28.06.2017 as amended by Notification No. 13/2018- Central Tax(Rate), dtd.26.07.2018.