Difference between  Advocate and Lawyer with Analytics||and Also Youtube Video
Lawyer Mean: –
Difference between  Advocate and Lawyer :- A person who has passed law degree / LL.B degree is called Lawyer. this person is not eligible/ ineligible to stand in the any court to put the stand of his/her clients.
The term 'lawyer' is very common in nature and used to designate anyone in the Law profession including a attorney, and solicitor, barrister
A lawyer is a professional who is qualified to offer advice about the law or represent someone/clients in legal matters
Description: – Anyone who holds a law degree
Duties: Give law advice, can do litigation, Role and duties may change depending on the type of lawyer and cannot represent them in the court of law 
Advocate Mean: –
The word Advocate is usually used for a lawyer only. This is a person who has completed law degree / LL.B degree and eligible to competent representation in the court on behalf of his/her clients.
An advocate is a qualified individual who represents the client in the court of law pleading for compensation or release and others depending on the nature of the case and more experienced than Lawyer.
All person After clearing the bar exam and  registered to State Bar Council practice as an advocate. Bar Council issue Certificate for Practicing and Identity Card
Description – who holds a law degree and Represents a client in the court of law
Duties: An Advocate Represent a client in the court of law, speak on behalf of a client in court, Plead their case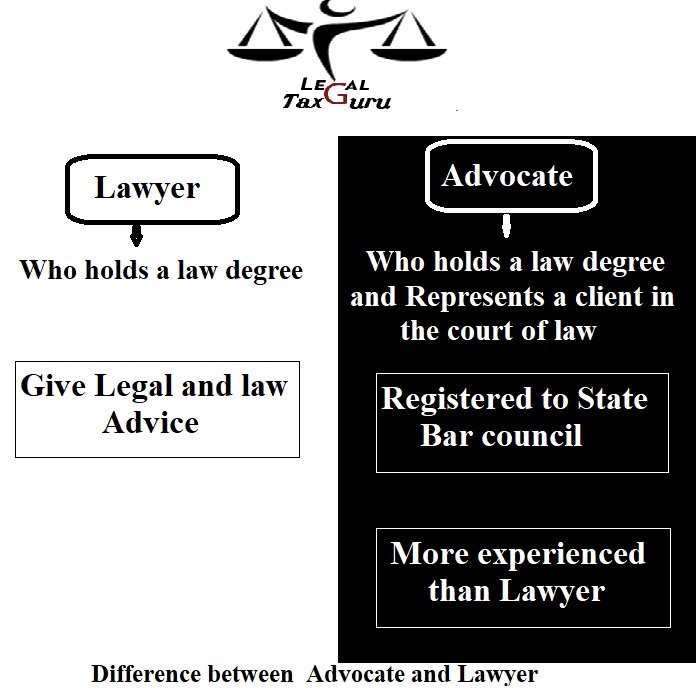 | | |
| --- | --- |
| Lawyer | Advocate |
| A person who has passed law degree / LL.B degree is called Lawyer. this person is not eligible/ ineligible to stand in the any court to put the stand of his/her clients. | The word Advocate is usually used for a lawyer only. This is a person who has completed law degree / LL.B degree and eligible to competent representation in the court on behalf of his/her clients. |
| A lawyer is a professional who is qualified to offer advice about the law or represent someone/clients in law, tax, legal matters etc. | An advocate is a qualified individual who represents the client in the court of law pleading for compensation or release and others depending on the nature of the case and more experienced than Lawyer. |
| Description: – Anyone who holds a law degree | Description – who holds a law degree and Represents a client in the court of law |
| Certificate for Practicing and Identity Card not issued by Bar Council | All person After clearing the bar exam and registered to State Bar Council practice as an advocate. Bar Council issue Certificate for Practicing (Rule 8.3 of the Bar Council of India ) and Identity Card |
| Duties: Give law advice, can do litigation, Role and duties may change depending on the type of lawyer and cannot represent them in the court of law | Duties: An Advocate Represent a client in the court of law, speak on behalf of a client in court, Plead their case |