Difference between Income and Revenue
Difference between Income and Revenue:- Revenue and income word are quite commonly used interchangeably, that are often confused us to mean, it is generally believed that both the terms refer to same mean, Actually, Income and Revenue differ in more than one aspect, the concept of revenue and income is mainly applicable for companies or corporations, Government, employed etc. Let us study about this matter Differences: –
Most Searches Articles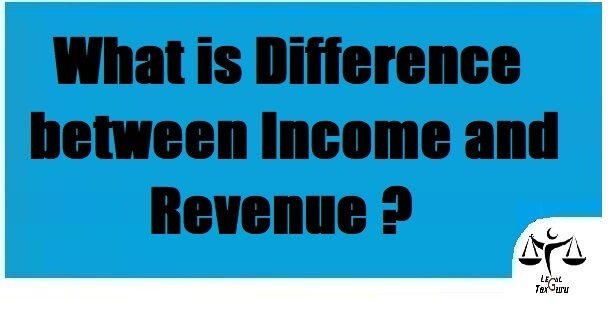 Reason

Income

Revenue

What is Mean

Income mean that net profit, or money that remains after expenses (subtract all costs, expenses, and taxes) are subtracted from revenue.

Income = Revenue − Expenses

Revenue mean that proceeds from the sales/ services of products or services to customers and some countries, revenue is also known as turnover.

Positive/Negative

Income can positive or negative.

Positive income means there is Revenue High against expenses and negative income means there revenue Law against expenses.

Revenue cannot negative

Example

Income = Revenue − Expenses

Income is its Bottom Line (Income =Revenue minus the costs of doing business).

• ABC Pvt Ltd Company revenue in the year 2019-20 with Rupees 100 Crore in total revenue.

Business/revenue constitutes a business' Top Line (Total Income through goods and services)

• However their net income, with all costs subtracted, was only Rupees 5.5 Crore. That's an income of just over 5% of their total revenue.
But a salaried person's point of view, income and revenue are basically the same after the deduction of taxes and also include traveling charges, office lunches, etc.
[news_box style="1″ link_target="_blank" show_more="on" header_background="#aaaaaa" header_text_color="#720c0c"]