Waiver of interest and late fee under GST for the month of March and April, 2021
Government has granted waiver from payment of interest and/or late fee to normal & composition taxpayers (Monthly / Quarterly) for the month of March and April, 2021, through Central Tax Notification No. 08/2021 and Notification No. 09/2021, both dated 1st May, 2021. The details are summarized below:
Also Read
Extension in dates of various GST Compliances (GSTR-4, GSTR-5, GSTR-6, GSTR-7, GSTR-8. GSTR-1 for GST Taxpayers
Extension Due date for Income Tax compliances to provide relief to taxpayers in view of the severe pandemic Covid-19-Income Tax Return, Audit Report, TDS Return and other Returns 
Relaxation to normal taxpayers in filing of monthly return in Form GSTR-3B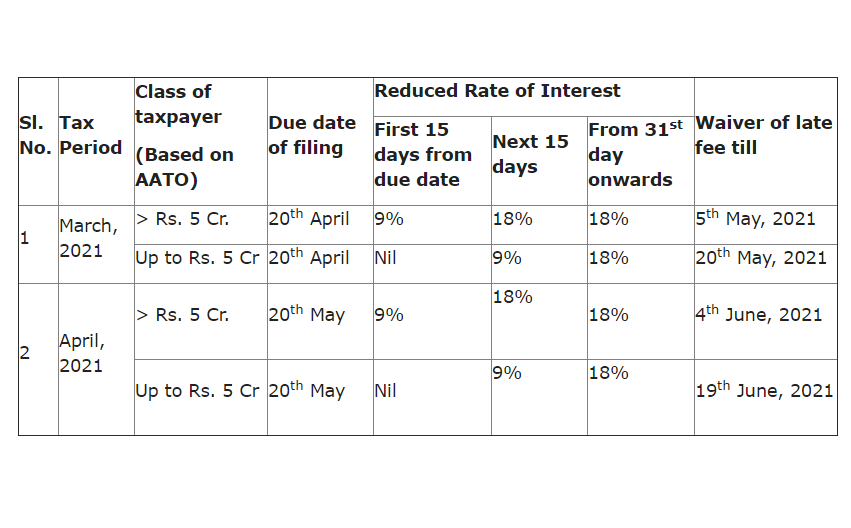 Relaxation in filing of Form GSTR-3B (Quarterly) by Taxpayers under QRMP Scheme

Relaxations in filing Form CMP-08 for Composition Taxpayers:
For Quarter of Jan-Mar-2021, instead of 18th April-2021, Composition Scheme Taxpayers can now file their quarterly return in Form CMP-08, without interest up to 3rd May- 2021, with 9% reduced interest between 4th May to 18th May-2021, and with 18% interest from 19th May-2021 onwards.
कोचिंग सेवाओं  के  साथ माल की आपूर्ति /मुद्रित सामग्री/परीक्षण पत्र, यूनिफार्म, बैग  पर जी.एस.टी- RAJASTHAN AUTHORITY FOR ADVANCE RULING GOODS AND SERVICES TAX Case Name : In re Symmetric Infrastructure Private Limited (GST AAR Rajasthan) Appeal Number : Advance Ruling... Read more
For Online Payment Subscription Charges Click below Button Subscription GST E-Magazine GST E-Magazine (LTG Publication Pvt Ltd) is a monthly magazine of www.legaltaxguru.com, a premier websi… Read more