Due date extended GSTR-9 & GSTR-9C to till 12 February by Rajasthan High Court
HIGH COURT OF JUDICATURE FOR RAJASTHAN JODHPUR
D.B. Civil Writ Petition No. 1805/2020
    Tax Bar Association (Petitioner)
Versus
Union of India & Ors. –Respondents
HON'BLE THE CHIEF JUSTICE MR. INDRAJIT MAHANTY
HON'BLE DR. JUSTICE PUSHPENDRA SINGH BHATI
For Petitioner(s): Mr. Sanjay Jhanwar, Rahul Lakhwani, Mr. Prateek Gattani
For Respondent(s): Mr. Vipul Singhvi. Mr. Anil Bhansali & Mr. Dixit Panwar
Order Dated 05/02/2020
The Rajasthan High Court (Jodhpur bench) has directed the Revenue department to accept From GSTR-9 and Form GSTR-9C till 12th February 2020, without late fees.
Consequently, direct that the petitioner Association and the assessee, for whom they represent, may keep uploading their returns at the earliest possible and we direct that no late fee shall be charged till 12th of Feb- 2020 for uploading. The respondents are directed to enable compliance of such uploading by making necessary/consequential corrections on its official portal.
Click here to View Full Judgment
Due Date of GSTR-9 and GSTR-9C for FY 2017-18 it has been extend By CBIC On Dated-31.01.2020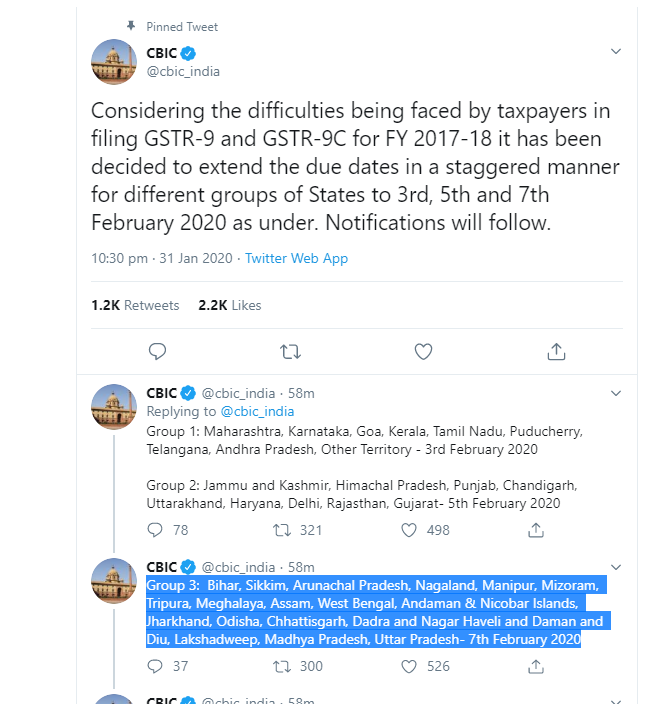 Considering the difficulties being faced by taxpayers in filing Form GSTR-9 and GSTR-9C for FY 2017-18, CBDT has been decided to extend the due dates in a staggered manner for different 3 groups of States to 3rd Feb, 5th Feb and 7th February 2020 as under.
Group 1: Maharashtra, Karnataka, Goa, Kerala, Tamil Nadu, Puducherry, Telangana, Andhra Pradesh (AP), Other Territory – 3rd Feb 2020
Group 2: Jammu and Kashmir, Himachal Pradesh (HP), Punjab, Chandigarh, Uttarakhand, Haryana, Delhi, Rajasthan, Gujarat- 5th Feb 2020
Group 3: Bihar, Sikkim, Arunachal Pradesh, Nagaland, Manipur, Mizoram, Tripura, Meghalaya, Assam, West Bengal, Andaman & Nicobar Islands, Jharkhand, Odisha, Chhattisgarh, Dadra and Nagar Haveli and Daman and Diu, Lakshadweep, (MP) Madhya Pradesh, Uttar Pradesh- 7th Feb 2020